NEW LOCOMOTIVE HEADLIGHT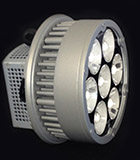 Watch new video footage of our Locomotive Headlight / Ditch Light in action in the Australian Outback.
See how 2 x 50 watt LED PAR 56 headlights improve track visibility. Reports of large reflective signs visible at 2km and kangaroos from twice as far as halogen headlights!
Please click here to view complete product specifications, or contact us to learn more or for a demonstration.
THE FUTURE OF LIGHTING
Divvali LED's will significantly reduce your energy and materials costs, save on labour, and are the greenest, safest lighting option available.
Our LED bulbs are the perfect option for both lighting replacement and new construction, and offer immense benefits to individuals, businesses, public institutions, and heavy industry.
The future is Divvali LED. The future is here.